Yesterday was a busy day. My mind was on a new website that wouldn't accept comments, student questions and all the details of running a business. Not enough hours in the day.

It was Cynthia's 17th Anniversary Celebration at the office. You read that right. Cynthia has been greeting my clients - during my real estate brokerage days - and today she helps my students feel like they matter, even when I'm not there. Cynthia always has a lovely smile and pleasing personality. I and all the other people on the 3rd floor of my building would be lost without her. We are all spoiled by Cynthia, Virginia and Malori. But, it was Cynthia's day and we gathered to say thanks.

OK, so what's the point, you ask?

I'm terrible at buying presents for others. I never know if I've gotten the right thing and I always spend too much time worrying about it. I'd purchased something I thought Cynthia would love. The problem was presentation.
Do I purchase a box and wrapping paper? If so where and how long would it take me to get this done. Time was a problem as I needed to be back to my home office for a hangout on air and I'd need to leave the luncheon early.
My plan was to stop by a boutique on the way to ask for help. Surely someone could help with packaging the present. I thought I was running late. Had I added enough extra time for the thing I dreaded most - picking out colors, a bag and tissue paper or a box and wrapping paper or whatever was going to happen. I feared the worst but headed out to accomplish my mission.
As I walked into the boutique, I was greeted by a lovely lady who asked if she could help me. I turned to say (I'm sure I sounded desperate)
"I need your help! I don't know how to make this pretty and it's important that it's pretty! "
When she asked what I had in mind, I help up my hand. Really, I don't have any ideas and can't help you. I must depend on you. I need your help.
She immediately took control.
She asked for the present, chose a bag then went for tissue. She looked at me again to hear me say, I don't do colors, you pick.
Now will you need a card, she asked. Yes, that would be good. She walked me over to one section of appropriate cards and said, pick one and bring it to the counter. I did as she instructed.
As I wrote my congratulations on the great card I'd chosen (she wisely gave me very few choices), I looked up and the beautiful present was done. She took the card and placed in properly to compliment her tissue work. 7 minutes and under $10!
I had been helped! I'd be early for the luncheon and the pressure was off. Now I could concentrate on the importance of the occasion rather than fret over such trivial stuff.
Here's my point.
I needed assistance. She read me perfectly and solved my problem promptly and without judgment. I loved that and was smiling as I left with time to spare. Great customer service, a satisfied customer and guaranteed repeat business!
Early to the luncheon, I had an opportunity to be with Cynthia before others arrived and get pictures of her digging through the tissue to get to the goodies inside. It was wonderful to see someone I cared about happy. She thought the bag and tissue (simple but beautiful) was perfect.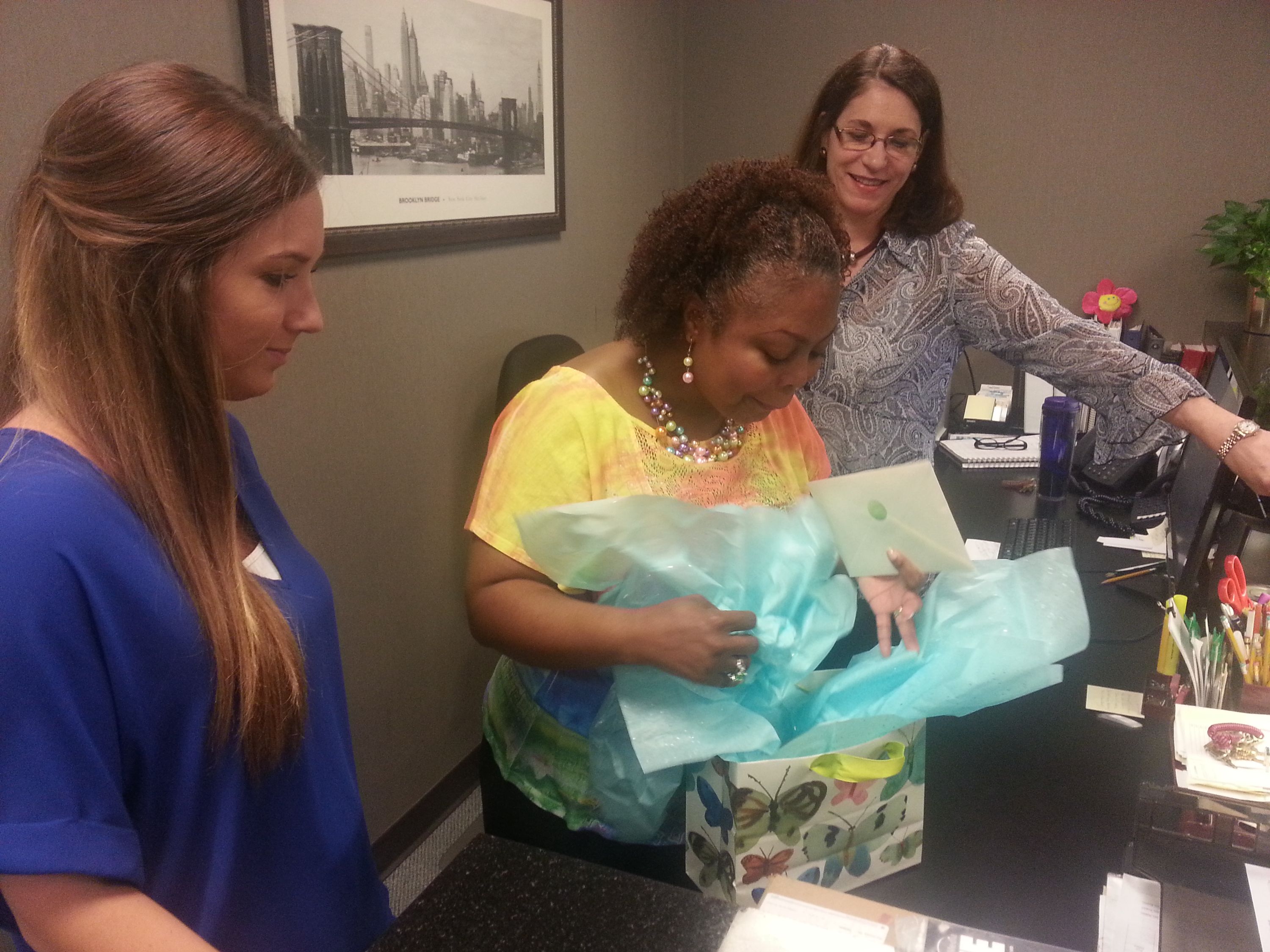 Rushing back to my 2 PM meeting, I was reminded how wonderful that great customer service felt and how happy it made my Cynthia. I wanted to stop by the boutique to say thanks and show the lady pictures of how things turned out. I wanted to share the happiness.
This reminded me of my days practicing real estate.
Every agent I know wants to give their buyer or seller exceptional service, solve client problems and help people feel they've made the right decision. Dedicated real estate agents work hard to fulfill dreams and iron out impossible situations so all parties receive what they want and deserve?
It's just that simple. That's what great real estate agents are made of - good customer service. The rest of the work is the details of the job. The rewarding feeling of accomplishment for delivering great service is why agents work so hard and get so involved with their buyers and sellers. We're just made that way.